Twelve days till Halloween! Pumpkins are everywhere, the evenings are crisp, and we've already gone through two bags of Halloween candy. It's definitely feeling like fall.
Thank you for joining us in week three of our countdown to Halloween linkup party. If you're just now joining the party, welcome! The more the merrier. You can read all the details
here
, but the idea is to share all things fall related, no matter how big or small. And be sure to visit all the co hosts -
Courtney
,
Amanda,
Elizabeth
, and
Kelly
- for lots more fall fun inspiration. So grab a button and post away!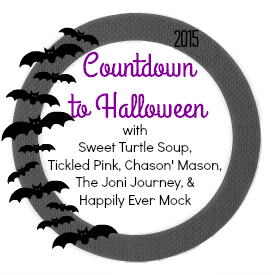 Here's what we've been up to this week, starting at day 12:
Day 12: Sick Day & Monsters University.
Ez was sick all week, so we've been laying low and watching lots of movies. On Monday Monsters University happened to be on, and it's the first movie besides Cars that he actually sat through. Unfortunately I think that had more to do with how sick he was feeling and less to do with how much he liked the movie. I thought it was cute though.
Day 13: Halloween Books in a Fort.
This fall I really wanted to build a blanket fort with Ez. There's something so fun and cozy about a secret hideout. I envisioned a rainy day nestled in a blanket fort with some Halloween books. What we got was a cloudy sick day. Close enough. I also figured a tent is basically a fort, and Ez has had this tent since his birthday back in May and we hadn't used it yet. So voila, indoor camping! Ez liked it as long as I was in there with him. He's pretty much been glued to my side this whole week. Nothing like mama snuggles when you're not feeling well.
Day 14: Pumpkin Everything.
I'm a little late to the party, but I finally jumped on the pumpkin bandwagon. Pumpkin English muffins for breakfast, pumpkin fro yo, and
this banana bread
, but I subbed one of the bananas for a third cup pumpkin. Perfect for afternoon tea. But iced tea, because this is California.
Day 17: Monster Footprint Art.
Neither boy liked having their foot painted, but I liked seeing the comparison of their feet sizes and now I have a new monster to compare to
Ez's from last
.
Day 18: Pumpkin Festival.
Good food, a fire truck, pumpkins, giant bubbles and grandparents is a guaranteed good time. Would I wait in three hours of traffic to do this again? No. But we got lucky that our car seat-hating baby didn't put up too much of a fuss. Also we FINALLY picked out some pumpkins. PS - I just noticed my cheesy smile in the reflection of the fire truck. Ez was just so proud to be sitting up in that seat. Cutest thing ever.
And here's how we're doing on our fall bucket list: